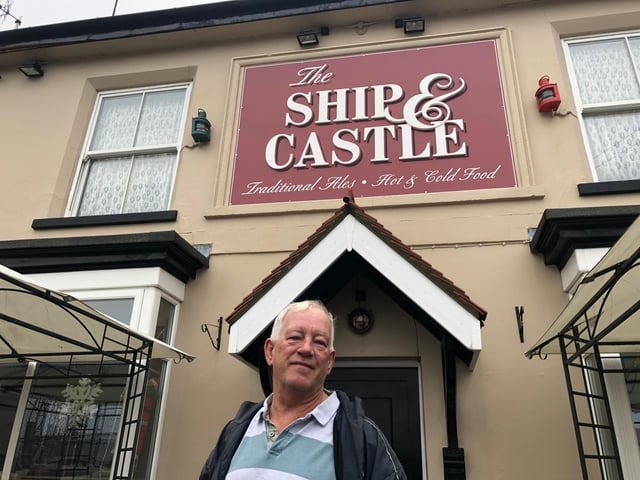 Steve Fitzgerald, the landlord of The Ship and Castle, in Rudmore Road.
Steve Fitzgerald, the landlord of The Ship and Castle in Rudmore Road, was hit with a £1,000 fine after a wake on the premises breached restrictions at the end of October.
The breach was an honest mistake made due to both the wake's organisers and the staff not realising restrictions of guests had changed, according to Steve.
The landlord of the Fuller's-owned pub said: 'The people organising the wake themselves didn't realise the rules had changed.
'There were 28 people here. They thought 30 was the limit. The government had changed the rules about seven days before.
'Everyone was well behaved and everyone knew the other rules.
'The police and a council worker turned up and the officer said it was the responsibility of the landlord – but I can't keep up because there's just too much information.
'Even Fuller's thought the limit was six people.'
At the time, the rules limited 15 people to attending wakes.
Steve added: 'We feel we have been picked on.'
Given the sombre nature of the event, the community responded with 'very understanding' messages on social media, according to the landlord.
He added: 'The people organising the wake came back three or four days later and gave us £100 extra towards the fine, and they wanted to give us more but I said no.'
And the fine has compounded the pub's plight, with the venue next to the port losing more than £80,000 in trade due to rolling restrictions and lockdowns.
The 65-year-old said: 'We have been dead since July, since travel restrictions in France and Spain came about.
'Every golf society, all the school kids from France enjoying their last meal in England before going home, we have lost all that trade.
'We believe that we have lost more than £80,000 in that time.
'The pub is £3,000 in debt – and we still have to get more stock.
Now Steve believes that landlords should be given more discretion for keeping people safe – and address the 'unfairness' when it comes to supermarkets selling alcohol.
He said: 'They should let pubs run their own system to keep people safe.'
'I know that people are drinking in Fareham and they have come from Portsmouth, I have seen people go to the busy cash and carry and stock up on alcohol.
'We have to protect the old and the vulnerable- but if we're closed, all the supermarkets need to stop selling alcohol. It's not fair at the moment.
'Maybe we could reopen and only serve people with a boarding pass.'
A message from the Editor, Mark Waldron
You can subscribe here for unlimited access to Portsmouth news online – as well as fewer adverts, access to our digital edition and mobile app.
Our trial offer starts at £2 a month for the first two months.